Anodized Aluminum Nameplate Materials and Options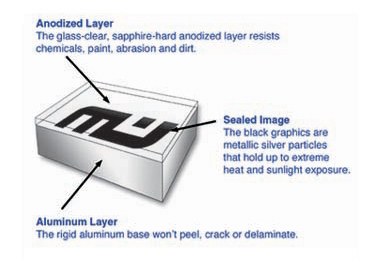 Our Metalphoto photo engraving process is recognized as the most durable of aluminum identification plate material by GPI, the National Association of Graphic and Product Identification Manufacturers, Inc. It is an ideal choice for those designing nameplates, front panels and tags that need to last. Our process performs and remains legible for decades in the harshest environments and most challenging applications. The material is durable and the graphics are high contrast with excellent resolution.
Material Characteristics
Namplate Graphic Imaging:
The images/graphics for your nameplate or panel are photographically imaged into the anodic layer of the aluminum giving you an image in black or gray-scale.
Thicknesses of Anodized Aluminum:
.003"(foil), .005"(foil), .008", .012", .020", .032", .063", .090" and .125"
Anodized Aluminum Finishes:
Matte - non-reflective with dull finish
Satin - semi-gloss medium reflective material
#4 - brushed to resemble a stainless steel finish
Gloss - highly reflective, mirror-like
Test Results
Characteristics
Result
Abrasion Resistance
No pronounced image loss, degradation, or reduced readability after 7000 cycles of an abrading wheel.
Acid Corrosion
No deterioration or image degradation after 24 hours in 3% nitric acid.
Heat Resistance
No legibility loss or degradation when subjected to 650°F. No deleterious effect after a 720-hour salt spray (fog) test. 2,6
Salt Spray Corrosion
"Very good" corrosion resistance after 113 days seawater exposure
Accelerated Light
and Weather
Resistance
No pronounced deterioration of legibility after 400-hour carbon arc weatherometer exposure.
Accelerated Oxygen
Aging
No discoloration or fading after 96hour/300 psi/70°C oxygen bomb aging.
Stain Resistance
No black fading when plates are exposed to tincture of iodine.
Cleaning Resistance
No deleterious effects when tested with alkaline cleaners (MIL-C-87937 or equivalent) for aircraft surfaces.
Low Temperature
Resistance
No deleterious effect or image fade after 1 hour at -50°F. No impairment of legibility upon exposure at -67°F.
Organic Solvent
Resistance
No softening, staining, or noticeable fade after 24-hour exposure to: JP-4 fuel, Gasoline, Mineral spirits, Methyl ethyl ketone, Turpentine, Turbine & jet fuel, Kerosene, Xylol, Acetone, Toluol, Heptane, Trichlorethylene, MIL- H-5606 hydraulic fluid, and MIL-L-7808 jet engine oil
Fungus Resistance
Visual reading of "0" per ASTM-G21.
Thermal Shock
No deterioration after 3 cycles between -65°C and 125°C.
Moisture Resistance
No deterioration after 10 humidity cycles per MIL-STD-202, method 106.
The above tests were conducted in strict laboratory conditions. In order to achieve maximum satisfaction we highly recommend that any customer considering use of this product test the labels in the environment in which they will be used. MetalWorks Etcetera, LLC does not warrant performance of its materials in any environment.
Contact us with your industrial nameplate needs at 1-800-932-1662 x 104.