Metalphoto Photosensitive Anodized Aluminum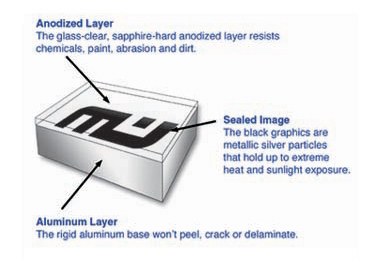 MetalWorks Etcetera, LLC uses the Metalphoto photosensitive anodized aluminum process to manufacturer industrial name plates. Also referred to as photo anodized aluminum, Metalphoto has been the "go-to" option for durable labels, nameplates, equipments panels and more for more than fifty years. The Metalphoto silver halide image is permanently sealed within the anodic layer, making it virtually impervious to chemicals, heat, abrasion, salt spray and UV. Metalphoto meets an array of commercial, government and military specifications including MIL-STD-130N for Department of Defense UID data matrix bar code applications.
Durability of Metalphoto Anodized Aluminum Nameplates:
MetalWorks' aluminum products are manufactured from the highest quality anodized aluminum which meets the most stringent industrial and military standards. Graphics are imbedded in the anodic layer and protected by its sapphire-hard surface. This surface resists abrasion and chipping as well as most industrial solvents and chemicals. Our products are perfect for severe environmental conditions where temperature extremes, rough handling or sunlight would destroy ordinary materials.
Metalphoto Anodized Aluminum Thicknesses & Finishess:
A variety of thicknesses and finishes are available. These thicknesses are .003, .005, .008 foil, and .012, .020, .032 aluminum plates. The metal finishes are satin, matte, gloss and #4 finish.
Nameplate Fastening Methods:
MetalWorks' plates may be fastened with any of a variety of adhesives or mechanical fasteners. Thinner gauge plates typically use adhesive, and thicker gauge plates may use adhesive or mechanical fasteners.
Military, Federal & Industrial Specifications:
Our products meet or exceed the following Military, Federal and industrial specifications: GGP-455B, MIL-STD-13231, MIL-DTL-15024F, MIL-P-19834B, MIL-STD-130M, MIL-A-8625F, A-A-50271, and SSP50007
Contact us with your Metalphoto name plate needs at 1-800-932-1662 x 104.